Installing faucets in a home is a very common handyman task.
Having an outdated faucet or even a faucet that functions poorly can be a real pain. (Not to even mention that it can cost you alot of money).
When it's time for a new kitchen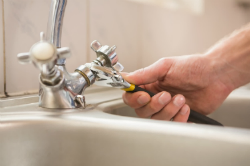 or bathroom faucet, please feel free to let
SmallJobs
help you.
We have been providing our faucet installation services to Crofton Maryland for years.
Most of our customers like to pick out and purchase their faucets own their own and have us install them, later and at their convenience. However, if you need help in deciding which kind of faucet to choose, we can also help with that.
Crofton Faucet Installations, done right.

Remember, you don't always have to need to pay the outrageous prices of a plumber when you need Faucet Installation Services. Just tell us what you need, and if we cannot help you, we can refer you to an honest plumber that
we trust
. We are dedicated to solving your home problems whether we do the job or not.