Repairing faucets in a home is a very common handyman task.
Having a faucet that functions poorly can be a real pain. (Not to even mention that it can cost you alot of money). A dripping faucet can also increase your water bill dramatically.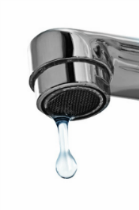 You don't always have to replace a leaky faucet though. Sometimes it's just a matter of replacing a cartridge, or valve, or even a seat and spring. It's completely normal to have faucet parts wear out, over time.
This can speed up if you have hard water too.

But don't worry,
SmallJobs
is here to help you.
What our customers are saying?

Its a fact: Our customers love us. Read some of our
reviews here
and see what our customers are saying. If you are in need of home repairs in Crofton
,
please consider
SmallJobs
.
We would love to add you to our extremely satisfied customers!

Crofton Faucet Repairs, done right.

Remember, you don't always have to need to pay the outrageous prices of a plumber when you need Faucet Repair Services. Just tell us what you need, and if we cannot help you, we can refer you to an honest plumber that
we trust
. We are dedicated to solving your home problems whether we do the job or not.