Smoke Detectors are an essential part of a fire-prevention strategy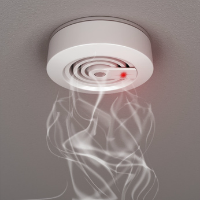 The
National Fire Protection Association
recommends that you replace a smoke dectector when it's 10 years old. Over time, dust gathers inside smoke detectors, desensitizing the sensors.
And even if your smoke detector hasn't reach the 10-year mark, they should be replaced if it keeps chirping after you have replaced the battery or if the alarm doesn't sound when testing the fire alarm system.
Experts recommend replacing all connected smoke alarms at the same time, even if some of them are working.
Don't worry though,
SmallJobs
is here to help. We are very experience and will complete your job with some of the highest standards in the bussiness. and while we're there, we can even take care of other home projects and maintenance repairs, all in the same day.
That's the benifit of hiring us.
What our customers are saying?
It's a fact. Our Customers love us.
Read some of our
reviews here
and see what our customers are saying.
If you need any home repairs in Crofton, please consider
SmallJobs
.
We would love to add you to our extremely satisfied customers.